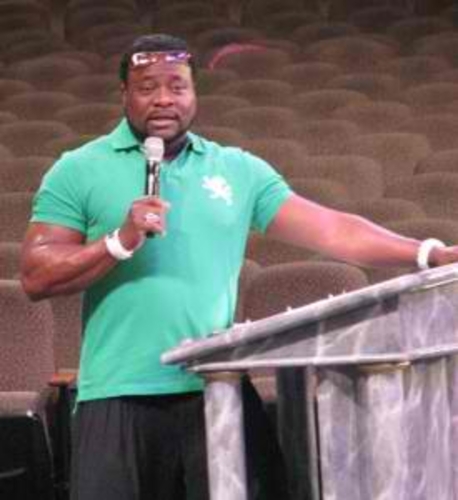 (ThyBlackMan.com) Bishop Eddie Long of the New Birth Missionary Baptist Church has been sued for allegedly encouraging his congregants to enter into a Ponzi scheme. The documents were filed in DeKalb County about three weeks ago, and hold Bishop Long accountable for bringing Ephren Taylor into the church to encourage members to invest in his company, which was allegedly operating at a massive deficit.
New Birth members lost over $1 million dollars in their investments, and they now hold Bishop Long responsible for their decision.
"If Bishop Eddie Long hadn't endorsed this they wouldn't have invested," said Jason Doss, attorney representing the former members.
The Securities and Exchange Commission has accused Taylor of running a Ponzi scheme, and he has been charged in a pending civil suit. Effectively, a Ponzi scheme is when you tell your someone that you're investing their money in one thing, but using it for another. Some companies seek out additional "investor" capital in order to simply pay the bills or keep other investors happy. The last investor holding the bag is the one who ends up broke.
"He preyed upon investors' faith and their desire to help others, convincing them that they could earn healthy returns while also helping their communities," said David Woodcock, director of the SEC's Fort Worth Regional Office in Texas.
The good Lord knows that I haven't been kind toward Bishop Eddie Long over the past two years. I am firmly convinced that he is not healthy for his church and certainly not fit for leadership. I also believe that his members have failed to hold him accountable for past decisions: When he was first accused of abusing young boys in his church, he promised to reveal everything. But a few months later, he simply settled the suit behind closed doors.
But as a Finance Professor, I have to step in and say that this unfortunate incident doesn't necessarily imply that Bishop Eddie Long deliberately deceived those who invested in Taylor. I truly believe that Long felt that he was helping a young black man build his business and encouraging wealth-building in the African American community. At worst, Long is guilty of not properly vetting the companies that use his reputation, which would make him no more guilty than Tavis Smiley during his interactions with predatory lender Wells Fargo.
This might be an odd and unpopular thing to say, but I could care less about that. The point is that there is a thin line between predatory investing and simply losing money. Had the economic crisis of 2008 never occurred, I argue that 80% of the lawsuits that were filed for predatory/illegal behavior on the part of investment management companies would never have been filed. People are happy when their investments work out, but when things go south, they look for someone to sue. I doubt that either Long or Smiley knew that they were endorsing toxic organizations, and I'm willing to bet that most of us would have made the same decision.
This does not, in any way, say that the members of New Birth do not have a legitimate legal claim against Bishop Eddie Long. The bottom line is that there are serious problems with the way Ephren ran his company, and the former financial golden boy reminds us that all that glitters isn't gold. But Bishop Eddie Long's public video asking Taylor to give the money back is, in my opinion, a legitimate reflection of the fact that Long was just as shocked by this outcome as anyone else. The mistake that Long appears to have made is that he presumed that because Taylor was his friend, he must also be a good investment manager. This gets a lot of people into trouble.
The final lesson to be learned for all of us is that you should NEVER trust the bulk of your resources to any person, whether it be your pastor, a close friend or anyone else. The trust that Bishop Eddie Long's congregants placed in him has likely put young boys at risk and led to the financial ruin of people in his church. One of the reasons that Bill Cosby and Oprah Winfrey have so much wealth is because they were always careful and well-educated about anyone who had access to their money. There is no excuse to not be financially literate – if the investment is too complex for you to understand, then you probably don't want to make it.
No one should leave himself in the dark.
Staff Writer; Dr. Boyce Watkins
Dr. Boyce Watkins is the founder of the Your Black World Coalition. For more information, please visit
http://BoyceWatkins.com.
Posted By: DAVID JOHNSON
Wednesday, February 20th 2013 at 2:39PM
You can also
click here to view all posts by this author...