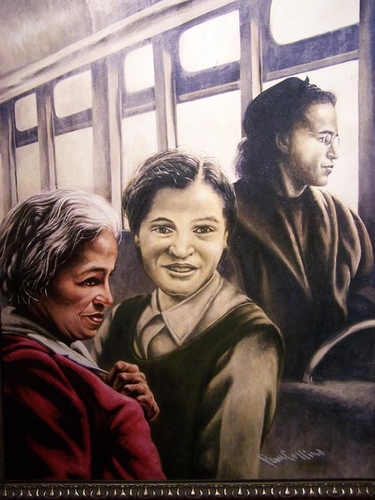 Holland, MI — Paul Collins, said to be one of the most accomplished American realist painters of the late 20th century, is showing his work in the Holland Area Arts Council's Lievense Gallery in celebration of Black History month.
A native of West Michigan, Collins' steady climb to international recognition has been punctuated by exhibits and hangings in some of the most prestigious museums and galleries. Collins has exhibited nationally and internationally, credited with more than 100 exhibitions, with several breaking attendance records.
His works have been viewed at the Pushkin Museum in Moscow, the Kennedy Center in Washington D.C., the Key West Museum of Art & History in Key West and the Studio Museum of Harlem in New York.
For the children, there will be stories read from children's books and a temporary exhibit of Anansi spider art and some sixth grrade student's drawings based on "I Have a Dream." There will also be a timeline of African American history in Holland. This event will take place 2 to 5 p.m. Saturday and is free.
Collins will present a keynote address at the Arts Council, at 8 p.m. on Saturday as part of "Artworks," a celebration of Black History month to benefit programs of the Center for African American Art and History. The evening celebration begins at 7 p.m. with a silent auction benefiting the CAAAH's programming. Registration is necessary by calling (616) 836-8559.
Also showing in the Lievense Gallery until Feb. 28, is "W is for War," Nathan Kukla's installation presented during ArtPrize 2010. Kukla is an artist and art educator, a graduate of Michigan State University, and a print maker and educator by trade.
"W is for War" consists of a set of 26 woodcut prints, bound and presented as a book, "The Alphabet Book of War."
"The project started when my daughter was born. I realized one day I would have to explain to her why my brother, her uncle, served in the Army and went to Iraq, what an army is and in the end why people fight wars. This project is the embodiment of my attempt to explain war," said Kukla.
The individual books for this project were hand bound for this project by Whitney Sorrow.
The Holland Area Arts Council is located at 150 E. Eighth St. For more information, visit (616) 396-3278.
Copyright 2011 The Holland Sentinel. Some rights reserved
Posted By: Daniel Moss
Saturday, February 5th 2011 at 1:42AM
You can also
click here to view all posts by this author...