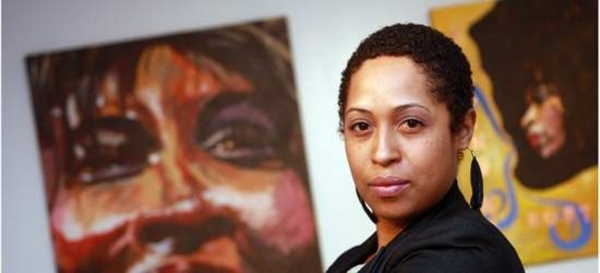 By Karen Croke • kcroke1@lohud.com • February 3, 2011
For Black History Month, New Rochelle artist Peridot Smith has brought together a group of male and female artists of varying ages and media whose work speaks to the question of the black experience.
"As with the history of our culture and our people, so many accolades and achievements have gone unseen, or minimized," says Smith, a multimedia artist who curates the show "The Black Experience: His and Hers," at Iona's Br. Kenneth B. Chapman Gallery. "Art is another one of our hidden jewels."
The show, which opened Tuesday, "will be an experiential exploration of the black experience using a multimedia and multi-sensory approach," says Madalyn Barbero, the Gallery Director at Iona. The exhibit will feature seven artists of varying ages and genders.
"African-American artists need a place in which our presence and pronounced voice can be celebrated and recognized in order to educate others and remind ourselves of our true power, potential and progress," says Smith. "It is imperative to share who we are so that we can continue to grow, stretch and expand through our messages on a larger scale, encouraging esteem and vitality for future generations to come.
That's the theme that runs through many of the cultural and historical events taking place throughout the area this month, from a spoken word performance offered by a young group of poets, to a traveling Smithsonian exhibit that examines the complex lives of people with both African-American and Native American ancestry. Along with the events listed here, check your library, cultural center, schools, and performances spaces for others.
Reading
Victoria Bond and Tanya Simon (her pen name is T.R. Simon) long wondered why there was no African-American version of young literary female adventurers such as Harriet The Spy, or Nancy Drew. So, they found one. The authors, Simon is a Dobbs Ferry resident, have written a book for young adults, called "Zora and Me," the fictionalized account of the life of the writer Zora Neale Hurston as a child. The writers will be at Tarrytown's Warner Library tonight to talk about Zora and her accomplishments .
Warner Library is also holding an exhibit of the works of Donald Whitely, Ronald Brown, and Martha Evans.
Details: 7 tonight. Free. The Warner Library, 121 North Broadway, Tarrytown, 914-631-7734.
www.warnerlibrary.org.
Traveling exhibits
The Hudson River Museum looks at race through a different lens. Its exhibit "The Chemistry of Color: The Sorgenti Collection of Contemporary African-American Art," has a breathtaking array of masterworks by artists Romare Bearden and Jacob Lawrence.
This is the only New York-area venue for this major traveling exhibition, and along with Bearden and Lawrence, there are works by Benny Andrews, Sam Gilliam, Howardena Pindell, Faith Ringgold, Betye Saar, and Raymond Saunders. Combining color, narrative, and materials, the artists reflect both their community's influence and ideals forged from 1960 - 1990.
Details: Saturday-May 11. Admission is free with museum admission, $5 adults; $3 seniors and youth 5 to 16. The Hudson River Museum, 511 Warburton Ave., Yonkers, 914-963-4550.
www.hrm.org.
Another traveling exhibit, this one from The Smithsonian, comes to Rockland Community College: "IndiVisible: African-Native American Lives in the Americas," is a traveling display that focuses on the seldom-viewed history and complex lives of people with both African-American and Native American ancestry. An accompanying exhibition book, "IndiVisible: African-Native American Lives in the Americas," features 27 essays from authors sharing first-person accounts on such diverse subjects as contemporary art, the Cherokee Freedmen issue and the evolution of jazz and blues.
Details: Opening reception is noon-6 p.m. Saturday, with a book sale and signings (noon-1:30 p.m.) by authors Lonnie Harrington, Kevin Thompson and Lorna Rainey. Snow date is Sunday. Free. The Cultural Arts Center Atrium, Rockland Community College, 145 College Road, Suffern, 845-574-4323 or 845-574-4396.
www.sunyrockland.edu.
Posted By: Daniel Moss
Saturday, February 5th 2011 at 12:26AM
You can also
click here to view all posts by this author...