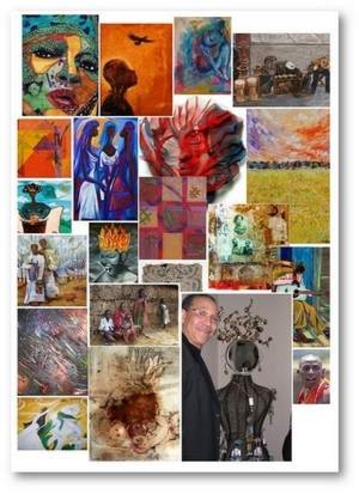 The Arts Council of the Morris Area has opened Art in the Atrium's new exhibit, ""Memories of Russell,'' on display on the second to fifth floors of the Morris County Administration & Records Building, 10 Court St., Morristown.
The exhibit continues through March 11 and honors Russell Aldo Murray, one of the founders of Art in the Atrium, a nonprofit showcasing fine art by established and emerging African-American artists.
This is the 19th-annual show and sale of works by more than 30 local and nationally known African-American artists. The exhibit features works by Akintola Hanif, Alonzo Adams, Anthony Boone, Anyta Thomas, Aristan Jacks, Barbara Bullock, Bisa Butler, Bryan Collier, Calvin Coleman, Felix Osiemi, Glenda Jones, Hicoup, Ife East, India Cruse-Griffin, Isaam Shariyf Houston, Jacqueline Collier, James Edmonds, Janet Taylor Pickett, Janice Jamison, Joachim McMillan, Jose Cruz, Kali McMillan, Keidra Haskins, Kevin Cole, Kimmy, Lavette Ballard, Leroy Campbell, Lynn Cabell McGee, Lynn Presley, Najee, Norman Lewis, Richard Watson, Rosaline Nzinga Nichol, Terry Boddie, Viki Craig, Wanetta Phillips and Warren Murray.
Admission to the gallery is free. Hours are from 8 a.m. to 5 p.m. Mondays through Fridays.
The Arts Council of the Morris Area is a private nonprofit organization founded in 1973 and long-dedicated to enriching the community through the arts. It fulfills its mission to bring the arts to the center of community life through arts education, arts programming, arts advocacy and support for artists and arts organizations.
For more information, visit
www.artintheatrium.org.
Posted By: Daniel Moss
Friday, February 4th 2011 at 4:34PM
You can also
click here to view all posts by this author...