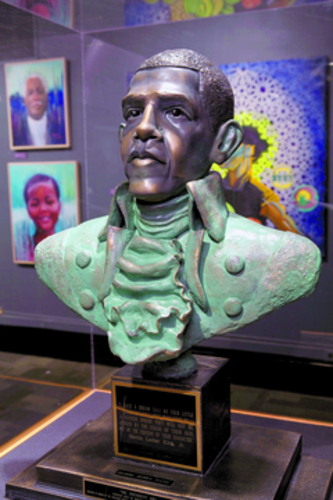 The Museum of Science and Industry is celebrating the 40th anniversary of its Black Creativity Program with a twist.
Traditionally, the annual event — which recognizes African-American achievements in a variety of fields and disciplines, including architecture, engineering, film, medicine and music — has been on display through the month of February in honor of Black History Month.
For the 40th anniversary, a retrospective of past exhibits is on display and additional exhibits and activities are planned for throughout the year.
A highlight of the February activities is the annual Black Creativity juried art exhibit.
Andre Guichard, the former curator of the South Shore Cultural Center Fine Art Gallery and co-owner of the popular Bronzeville Gallery Guichard, served as lead juror for this year's competition and says there is a lot to be excited about with this year's show.
"We had 350 pieces submitted from which 100 were selected for showing," he says. "I wish we could have displayed them all. The quality of the work was that good this year."
The submissions even included work by some nationally prominent African-American artists and reflect a number of art genres and mediums.
"Sculpture was especially strong this year," Guichard says. "Overall, it is a very well-balanced show."
President Obama even makes an appearance, in art form, anyway. Three pieces in the exhibit feature America's first African-American president.
"I was particularly captivated by Deborah Hand's sculpture 'We the People,'" Guichard says. "The modern image of the president is juxtaposed with garb from the past. Art has always met history at some point, and you are starting to see artists interpret what's current as they reach back to our history."
Guichard says some political imagery should be expected.
"The MSI Black Creativity art exhibit is one of the oldest juried exhibits of African-American artists in the country," he says. "The show itself has been making its own political statement for 40 years."
Posted By: Daniel Moss
Friday, February 4th 2011 at 4:31PM
You can also
click here to view all posts by this author...