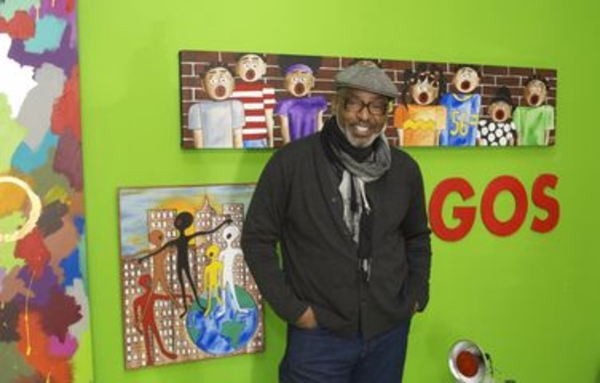 by Brandon Darnell
The Sacramento African-American Art Collective is kicking off its monthly "First Saturday" art tours this week, looking to bring to light art that organizers said isn't well-represented.
"There's something happening over here, there's something worth seeing," said Gerry "Gos" Simpson, whose paintings are on display at Master Barber & Beauty Shop on Stockton Boulevard. "The African-American community has a lot of things to share. The First Saturday Art Walk is going to bring a lot of people in, and they will be pleasantly surprised."
Despite showing African-American artwork in businesses owned by African-Americans, everyone is encouraged to attend, according to Brady and A. Michelle Blakely, owners of Evolve the Gallery.
The art walk begins at noon on Saturday and goes until 6 p.m. A reception and jazz concert will be held at Master Barber & Beauty Shop from 9 p.m. to Midnight.
There will be 13 venues participating in the artwalk, ranging from Stockton Boulevard to Del Paso Boulevard. For a complete list, see the bottom of this article.
"It's going to show the versatility of African-American artists," Brady Blakely said.
"It's high-quality, fine African-American art," A. Michelle Brady said.
February – Black History Month – was the natural choice to kick off a monthly art walk featuring African-American artists, and Brady Blakely said the thread of history runs deep within African-American art.
"African-American art tells stories," he said. "That's how, in Africa, the history was always told – through stories. There's a lot of history in the art here."
Simpson said that is definitely true of his art.
In one painting, a group of children stand together eating watermelons – a scene out of Simpson's childhood trips from New Jersey to Georgia to hang out with his cousins.
"We would go outside and catch up, and we'd eat watermelon," he said, adding that he incorporates the melon into his paintings frequently.
Though watermelons are often used in a stereotypical way by others, Simpson said he likes to show that it doesn't have to be anything negative.
"For us, watermelon is a slice of life," he said.
In another painting, five figures – one each in white, black, yellow, brown and red – dance on a globe with a sun rising over a city in the background.
"I like to show that we can all come together," Simpson said. "It doesn't matter who you are."
He had a suggestion for people who might be on the fence about coming to the art walk:
"Think of it like trying a new food," he said. "You try something new, and you might find out you really like it."
Each month, one of the art venues will hold a reception.
Marichal Brown, co-owner of Master Barber & Beauty Shop, said the business has been in his family since 1974, and it relocated to Stockton Boulevard a year ago to a space that allows for art to be displayed – and performed.
"We have a stage so people can perform spoken word and music," he said, gesturing to the stage, which is backed with Simpson's paintings.
"I've always appreciated art," he said. "I'm a collector."
Simpson said he hopes a lot of people come to see the artwork so the monthly event will start on a high note.
"We're opening the doors to let people come in," he said. "They'll be pleasantly surprised."
The following locations will be participating in this month's First Saturday African-American Art Tour:
Carol's Books
1913 Del Paso Blvd. 335-9094. Noon – 9 p.m.
Entertainment begins at 6 p.m.
Meet the Artist: Warren Spirling Author: Curtis Alcutt Sculpture: Veronica Kyle
Live Music by: Simply the Band.
Celebration Arts
4469 D St. 455-2787. Noon - 6 p.m.
MAHALIA by Tom Stolz – Show begins at 8 p.m.
$15 general - $13 students and seniors (age 60+).
Evolve the Gallery
2907 35th St. 572-5123. Noon - 6 p.m.
Evolve the Gallery is a private fine art gallery in Historic Oak Park.
Framed by Frankie
1001 Del Paso Blvd., Ste. 9. 613-2940. Noon - 6 p.m.
Art by Milton Bowens.
Jazzyblues Café
319 Sixth St., West Sacramento. 372-8897. 5 - 9 p.m.
KUUMBA Collective Art Gallery
1001 Del Paso Blvd., Ste. 9. 613-0099. Noon - 6 p.m.
Mud Cloth Maddness Art by Jeff Carnie.
Master Barber & Beauty Shop
4340 Stockton Blvd., Ste. 2. 457-8708. Noon - 6 p.m.
Closing Reception: 9 p.m.
Meet the Artist: Gerry "Gos" Simpson.
Entertainment: Garrett Perkins (Sax in the City, official CD release party), and more TBA
$7 in advance, $10 at the door.
Museum Day at Sojourner Truth Multicultural Museum
2251 Florin Road, Ste. 126. 320-9573. 10 a.m. - 4 p.m.
Museum Day – Women of Color exhibit.
Meet the Artists: Shonna McDaniel, Daphne Burgess and more.
Entertainment: Miwok dancers, children activities and more.
Studio 14 – Ed Nightingale
1001 Del Paso Blvd., Ste. 14. 919-1301. Noon - 4 p.m.
Studio 33 – Kevin Hellon
711 J St. 444-7553. 7 a.m. - noon.
Underground Books
2814 35th St. 737-3333. Noon - 6 p.m.
A February Gala
2200 Harvard St. (Eagle/Berryessa Room). (916) 284-5042. 6 p.m. - midnight.
Admission: $45 tickets must be purchased in advance.
Entertainment by: BAJAN and Percival Jones
Music provided by: Lady D.J. Pam, dancing and door prizes.
Art by: Lawrence Sullivan Arts Unlimited, Textile Designs by Jan Hollins, Kanika Marshall African Sculpture, Jewelry Accents by Iris Dimond Hilton.
Posted By: Daniel Moss
Friday, February 4th 2011 at 4:27PM
You can also
click here to view all posts by this author...