Is it not time to have a global discussion with our " white " brothers about greed, abuse and his destruction of the planet earth. And if not, why not?
There are four elements of nature: Air, Fire, Earth and Water. Without one of them life can not exist. Yet our brother has been attempting to control and obviously pollute all of them.
Many attempts have been made to discuss racism with him, and without success. But now technology has gone in the direction where greed has overcome rational thinking and is undermining the very existence of humankind.
Do we stand by and watch our demise as human beings, playing into the whims of corruption or establish meaningful dialogue with the human family about the continuation of life itself? Is this not a critical moment in history?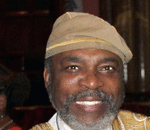 Posted By: Dr. Okpara Nosakhere
Monday, May 17th 2010 at 2:15PM
You can also
click here to view all posts by this author...