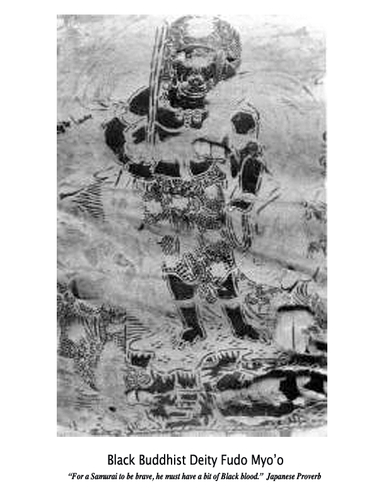 "The people who populate the island of Japan today are descendants from Blacks....Let us not forget that the first population of Japan was Black...and gave to Japan their first language."
--Leopold Sedar Senghor
"African-Like Stone Age Hut is Unearthed in Japan." Associated Press, 15 Feb 1986.
Boddy, James Marmaduke. "The Ethnology of the Japanese Race." The Colored American Magazine (Oct 1905): 577-85.
Brunson, James E. The World of Sakanouye No Tamuramaro: Black Shogun of Early Japan. Dekalb: Kara, 1991.
Brunson, James E., Runoko Rashidi and Wallace Magsby, Jr. "Black Shogun: The African Presence in Japanese Antiquity." African Presence in Early Asia. Edited by Runoko Rashidi and Ivan Van Sertima. New Brunswick: Transaction Press, 1995: 316-30.
Chamberlain, Alexander Francis. "The Contribution of the Negro to Human Civilization." Journal of Race Development 2 (Apr 1911): 458-71.
Fleming, Beatrice J., and Marion J. Pryde. "The Negro General of Japan--Sakanouye Tamuramaro." Chap. in Distinguished Negroes Abroad. Washington, D.C.: Associated Publishers, 1946: 3-9.
Hulse, Frederick S. "Physical Types Among the Japanese."In Studies in the Anthropology of Oceania and Asia. Edited by Carleton S. Coon and James M. Andrews IV. Cambridge, MA: Peabody Museum of American Archaeology and Ethnology, Harvard University, 1942: 122-33.
Hyman, Mark. Black Shogun of Japan and Sophonisba: Wife of Two Warring Kings: Other Events from Ancient Times. Introduction by Edward Sims, Jr. Philadelphia: Mark Hyman Associates, 1989.
Jones, Lois Mailou. "Sakanouye Tamura Maro." Negro History Bulletin 4, No. 2 (Nov 1940): 31.
Person-Lynn, Kwaku. "First Japanese Were Black." Los Angeles Sentinel, 14 Mar 1991: A-8.
Rashidi, Runoko, and Ivan Van Sertima, eds. African Presence in Early Asia. New Brunswick: Transaction Press, 1995.
Rogers, Joel Augustus. s*x and Race. Vol. 1, The Old World. New York: Rogers, 1940.
"Senghor Presents `Actual Facts' on Japanese: They're Descendants from Blacks." The Final Call 6, No. 5 (1987).
Suzuki, Hiroe. "September Meeting Report." JAFA News: Japan Afro-American Friendship Association Dedicated to Friendship and Mutual Understanding Between Japanese People and the Black Community in Japan (Dec 1993): 5-6.
Winters, Clyde-Ahmad. "Further Thoughts on Japanese Dravidian Connections." Dravidian Linguistics Association News 5, No 9 (Sep 1981): 1-4.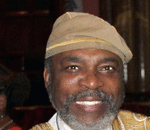 Posted By: Dr. Okpara Nosakhere
Monday, May 10th 2010 at 11:16AM
You can also
click here to view all posts by this author...