What kind of example are we setting?
---------------------------------------------------
How many people have been victimized, seen or heard of crimes committed by youths? In some cities, crime is so high, such as in my hometown of Bradenton, Fla., that the police cannot solve or answer every crime.
The police, schools, churches, nonprofit organizations and the government cannot raise our children; they can only help.
In Camden County, there are fewer schools, and that increases the chances for interactions between youths from good homes and youths living in dire circumstances and environments. Our sons and daughters of high-school age only have one high school to attend -- Camden County High School.
At times, I have worked in the Camden County School System: Elementary, Middle and High School. Parents would be surprised at the language used by our youths as young as second grade. We have good kids and we have kids that have been negatively affected by television, media, music, other kids, or worst of all, their own parents, elders or guardians.
When I am out and about the community during the work week, I see more youths in the streets, than people going to work. This is truancy, right? At night time, if I happen to be making a run to the store, I see kids hanging out. Oftentimes, I see a large group of adolescent males and a lone female. If Camden County were to enforce a curfew, there would be more parents against it than parents helping a great cause.
How many of us can relate to a mother crying in church for her pastor to pray for her child incarcerated, in trouble or harmed? But those who know her personally have a different perspective than what may be portrayed in the news or on television.
In Camden County, we come from many backgrounds, places and cultures, but integrity and good morals are pretty universal. The Bible mentions "upright" and "righteous." This does not mean perfect people, just good well-meaning people.
I have a saying that the average parent is a bad parent. The national divorce rate is 50 percent and probably higher due to the recession. The divorce rate for second marriages is 60-70 percent, for third marriages the divorce rate is 73-74 percent. In researching national divorce rates, I found out that for those who state they have faith, are Christian or claim a religion, divorce rates are just as high.
I once heard a pastor preach, "If a person has such faith, this ought not be so."
We can band together as a community, set an example for the rest of the world and reverse these trends in our families and children.
Just remember, "Evil triumphs when good men do nothing (author unknown)."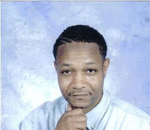 Posted By: WILLIAM W. HEMMANS III
Thursday, March 4th 2010 at 1:38AM
You can also
click here to view all posts by this author...